Diploma Fashion Designing Course in Mumbai
Since 1989, Panacea Fashion Institute is engaged in providing Diploma Fashion Designing Courses In Mumbai. The diploma in Costume Styling consists of garment creation and outline creation. Artistic and modern designers design the costume styling course that consists of dressmaking, color theory, embroidery, creativity along jewellery and fashion illustration with skill. With our qualified in Diploma Fashion Designing Courses, we deliver the knowledge which consists of interactive sessions.
We have courses which include Diploma in Jewellery Designing which is conveyed by our qualified designers. For improving their practical & skilled knowledge, the innovative, committed and hard working designers are offered with standard teaching session. With a good combination of theoretical and convenient information, the Diploma Fashion Designing Courses In Mumbai aims to offer the students with high salaried occupations in the fashion & glamour industry.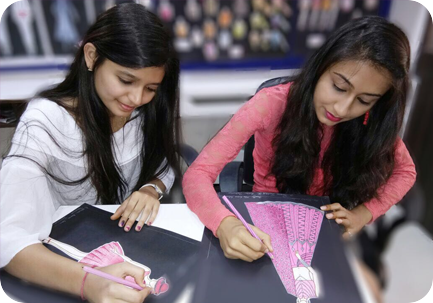 Knowing as the recognized fashion courses rendering service giver, Panacea Fashion Institute offers their students with simple to know Diploma fashion designing course in Mumbai. Our experts would guide students by representing product related fashion courses are trained under the most excellent fashion trade experts & Designers, our experts in this industry. Panacea Fashion Institute has accomplished an outstanding achievement in this fashion industry. Elegant classroom with complete study equipment of Panacea Fashion Institute is analytically executed, an array to make sure greatest student support and pleasure. The clearness in all the business dealings is pursued Diploma fashion designing course in Mumbai with the most planned mode.